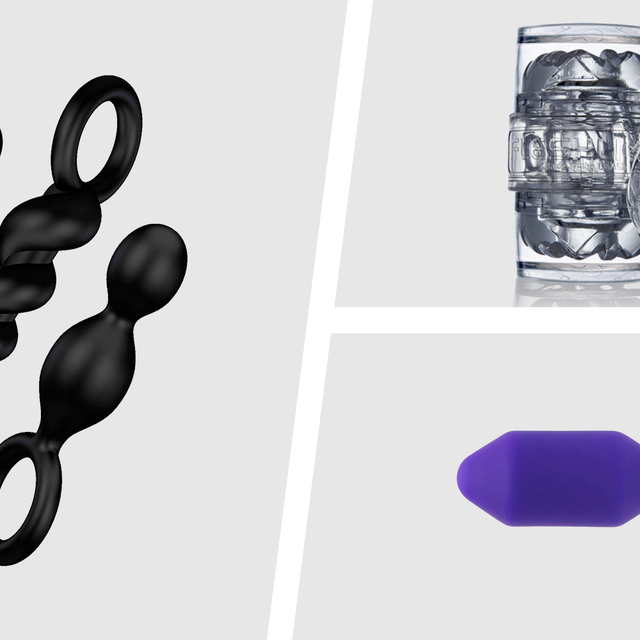 Satisfyer/Fleshlight/b-Vibe
There are too many good sex toys out there. That's why there's no reason to break the bank splurging $250 on a vibrating butt plug. There are plenty of cheap sex toys for men under 50 bucks that can get the job done—sometimes even better than the products five times the cost. The problem is, unlike the pricey toys that, for the most part, guarantee higher quality, some of the lower-priced items are trash. They'll fall apart after first-time use. That's why we compiled a list of 12 high-quality affordable sex toys for men that feel really damn good.
1 Quickshot Vantage™
Fleshlight
fleshlight.com
$34.95
It's like the standard Fleshlight, only smaller and less "intense" looking. The Quickshot Vantage feels great and is easy to travel with. The only con, being tinier, is that depending on the size of your junk, you might not be able to fit your entire penis inside (it's roughly 3.5 inches deep). Still, it definitely gets the job done. 
2 Caesar Vibrating Anal Plug Cock Ring
Lyps
lypsonline.com
$9.99
It's shocking how inexpensive Lyps' anal plug cock ring is. You would assume it's complete garbage given that it costs only $10, but that isn't the case. The Caesar hits nearly all of your erogenous zones from your prostate, to your testicles, to your scrotal sac. If you're have penetrative sex while using it, the plug-ring combo will literally have everything down there vibrating. 
3 Vibrating Inflatable Butt Plug, 4.5 Inch
Lovehoney
lovehoney.com
$26.99
Is the inflatable butt plug weird? Absolutely. Is it hilarious? One-hundred percent. But does it fill up your insides like no other product on the market? It sure does. 
I highly recommend using the IBP with a partner. Not only does it make it much easier to use, there's also an element of power play that comes with letting your partner hold the metaphorical reins. 
4 Progasm Jr. Prostate Massager
Aneros
lovehoney.com
$49.99
There's nothing junior about the Progasm when you're having an orgasm. It feels as intense as the original. It's compact shape allows for more movement and penetration, whereas with the bigger, original Progasm, you're more inclined to simply let it sit inside of you. 
5 Bionic Bullet 5-Function Vibrating Rabbit Cock Ring
Lovehoney
lovehoney.com
$22.49
The Bionic Bullet is a win-win for everyone involved. It stimulates both the penis and the testicles, squeezing both for longer and harder erections. It also has a little "rabbit" at the end, which will feel great for your partner if they have a clitoris. 
6 Extreme Wave Textured Blowjob Stroker
BlowYo
lovehoney.com
$29.99
While I wouldn't recommend using the BlowYo by itself, I would say it's the ideal blowjob accessory, especially for men who are well-endowed. It stretches to cover a few additional inches of your shaft, still allowing your partner to fellate your head. This gives the sensation of being deepthroated. 
7 Snug Plug 2 Silicone Butt Plug, 4 Inch
B-Vibe
lovehoney.com
$44.99
There aren't any fancy bells and whistles with the Snug Plug 2; it simply does what it's supposed to do, and it does it well. It feels great when playing by yourself or you can easily stick it in while having sex with your partner. It also comes in five different sizes, in case the standard size doesn't work for you. 
8 Commando Silicone Cock Ring
Good Vibrations
goodvibes.com
$16.00
Another no-nonsense sex toy, the Commando is a traditional silicone cock ring. The pressure against the shaft of your penis will help you stay hard during long periods of play. 
9 Egg, Wavy
Ah, the Tenga Egg. It's not going to change your sex life, and there really is no reason to use it with you partner, but when you're looking for a little something extra during one of your masturbatory sessions, the ol' reliable egg is there to give your orgasm that extra umph. 
10 Vibrating Ring
Plus One
amazon.com
$19.87
A slightly more elaborate cock ring, the "stem" of the toy can also vibrate against your female partner's clitoris, so both you and she can experience the intense vibrations from the ring. Since the ring is also larger and wall-charged (as opposed to many that use button batteries) the vibrations are far more intense than your typical bodega cock ring. 
11 Vibrating Mega Ring
Lovehoney BASICS
lovehoney.com
$7.99
If for some reason, the look of the PlusOne ring turned you off, then go for Lovehoney's Vibrating Mega Ring. Note, since they do use the cheaper little batteries, this ring probably won't last for multiple lovemaking sessions. I'd recommend buying this, seeing if you like the sensation of vibrating cock rings, and then purchasing a more heavy-duty one. 
12 Anal Plugs, 3-Piece Set
Satisfyer
amazon.com
$11.95
Three for the price of one. Well, it's actually three for significantly less than the price of one. These anal plugs come in a range of shape and sizes, which will give you an opportunity to explore what type of plug you may want to eventually splurge on down the line. Do you like longer, thicker, or with more grooves? These anal plugs will help you find out.