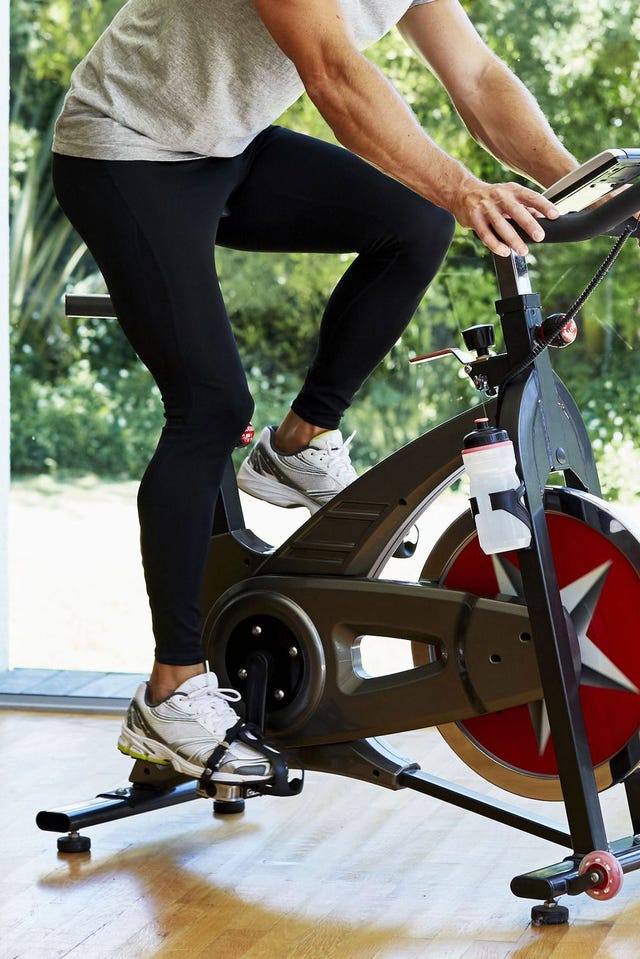 Morsa ImagesGetty Images
Spin classes are all the rage, but not everyone wants to spend an hour pumping away in a dark, loud room surrounded by sweaty strangers. The mix overeager instructors, blaring techno and top 40 music, leaderboard drama, and high cost of attendance just isn't going to be a good fit for more solitary exercisers—especially once you factor in the time commitment to attending classes on a rigid schedule.
But indoor cycling can still be a great workout, even without all of the modern spin class trappings attached, so you shouldn't just dismiss the activity on principle. If riding solo is more your speed, exercise bikes make it easy to pedal to a fitter you within the confines of your own home. Your personal gym setup should have a cardio option—and if you hate running, a bike gives you a perfect excuse to ignore treadmills and ellipticals entirely.
Check out these 12 options from top-tier brands for your at-home fitness setup. There's something for everyone here, from fitness neophytes to ultra-dedicated spin fanatics. All you have to do is take a seat and ride.
Advertisement – Continue Reading Below
Sportneer Bike Trainer
Sportneer
amazon.com
$89.99
Are you a road warrior actually just looking for somewhere to ride in the inclement months? Check out this stand, which converts your outdoor bike into a stationary training machine.
Exerpeutic Folding Magnetic Upright Bike
Exerpeutic
walmart.com
$149.00
Trying to get fit at home but you're short on space? This is a bike for minimalists, both in terms of its physical dimensions and its relatively low cost. When you're done with your workout, just fold it up and wheel it away.
Vive Pedal Exerciser
VIVE amazon.com
Skip the full-on bike setup and just focus on pedaling with this compact rehab machine. It's not just for seniors, though—throw it under your desk to burn some calories at work, or give your upper body a challenge by cycling with your hands.
Schwinn 130 Upright Bike
Schwinn
amazon.com
$499.00
$329.00 (34% off)
Ramp up your ride's difficulty with 20 different levels of workout intensity. Built in tech allows you to set goals and track your progress by distance traveled, calories burned, and heart rate level.
Sunny Health & Fitness Evolution Pro Magnetic Belt Drive Indoor Cycling Bike
Sunny Health & Fitness
walmart.com
$276.99
Get your spin on with this low maintenance magnetic resistance drive bike. No need to buy cycling shoes to clip in for your workout — just hop on and start pedaling.
Bladez Fitness Echelon GS Indoor Cycle
Bladez Fitness
amazon.com
$399.00
This solid indoor spinner has a heavy-duty 40 lb. flywheel so you'll never feel like you're pedaling away from the bike. Adjust the sport-style handles as you see fit, then get ready to ride.
NordicTrack GX 4.7 Exercise Bike
NordicTrack amazon.com
Sit back for more lumbar support and stretch out to pedal with this recumbent rig from NordicTrack. Ride anywhere without leaving your home with the compatible iFit program, which is connected to Google Maps.
Stamina Elite Total Body Recumbent Bike
Stamina
amazon.com
$659.99
This recumbent bike lets you have it both ways, with hand pedals to go with the foot pedals in case you want to work your upper body as well. Adjust the magnetic resistance in a range of eight settings, and use the built in pulse sensor to hit your target heart rate.
Marcy Exercise Upright Fan Bike
Marcy amazon.com
Bring your arms into the equation with this basic fan bike from Marcy. Track your stats like calories burned, time, speed, and distance traveled.
Schwinn Airdyne Pro Exercise Bike
Schwinn
amazon.com
$999.00
That big wheel means business. Airdyne is one of the most respected names in dual resistance fan bikes for a reason: You get heart rate monitoring, progressive wind resistance, and multiple options for hand placement to switch up your workouts.
Echelon Smart Connect Bike
Echelon
amazon.com
$899.99
It's not quite Peloton (that's next on the list), but this connected smart bike also offers live and on-demand classes to recreate the studio atmosphere in your home.
Peloton
Peloton
OnePeloton.com
You can work out at home all you want, but you'll never fully recreate the gym or studio experience without a coach and some flashy features. That's exactly what Peloton offers. The rig's video screen allows you to stream real spin classes from Peloton HQ at home, either live or on-demand. That immersion won't come cheap, but it's the closest you'll get to a private training session without hiring a pro.
Advertisement – Continue Reading Below