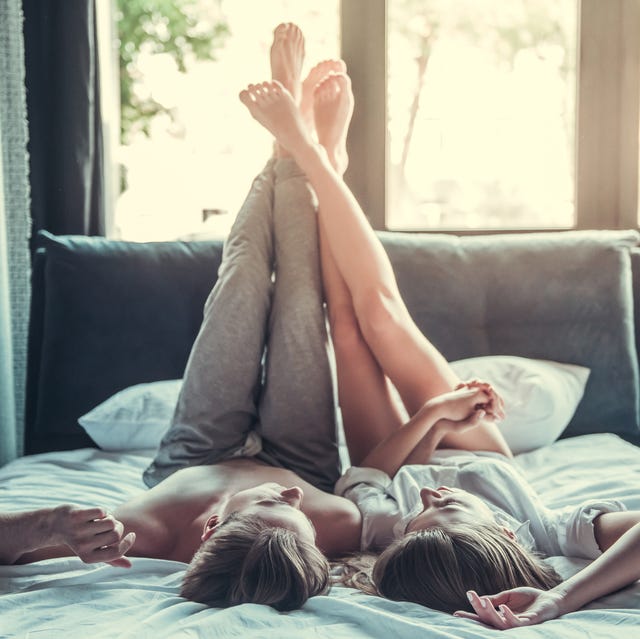 vadimguzhvaGetty Images
Sex furniture may sound kinda squicky but, damn, it can do secret magic things for your sex life. Especially the latest versions with—yes!—spots to mount a sexy toy. If you have the extra storage, here's how to put your sex furniture to good use. (You *could * use an off-duty sex wedge as extra seating for guests, but just…no.)
Advertisement – Continue Reading Below
1 The Thigh's the Limit
Have your partner slide her bum to the edge of the wedge and prepare for the extremely directed internal stimulation and deep penetration that awaits her. Your wedgie friend also positions her perfectly for oral if you wants to play with a new angle.
SHOP NOW Liberator Wedge, $94 on babeland.com
2 Pillow Talk
Add an extra dimension of motion with a firm pillow with a curved bottom. But instead of just using it to elevate your partner's hips like the Normals do, flip it over and use it as an X-rated see-saw to rock your bodies (like, literally) during missionary.
SHOP NOW Liberator Jazz Motion, $85 on lovehoney.com
3 The Pinned Up Princess
For a BDSM edge that's still actually kinda comfy, try a pillow with spots to attach wrist or ankle cuffs. Amp up the anticipation with a position where your partner faces away from you so she can't see you. What's coming her way next—Mouth? Hands? Toy? Penis? She'll have to wait to find out.
SHOP NOW Black Label Liberator Wedge, $144 on babeland.com
4 The Oh. My. Dog.
Doggy is good, but doggy while your partner straddles a firm cylindrical cushion? At least seven 🔥 emojis. Your partner can grind away on top and enjoy a fully supported ride that won't tire out her arms. You get all the glorious deep thrusting, and she gets to have an amazing orgasm.
SHOP NOW Liberator Wing, $116 on liberator.com
5 The Dream Come True
Penetration and a Magic Wand at the same time? Yes, please! Have your partner straddle a positioning cushion with a built-in mount for her favorite toy. The cushion elevates her hips for deeper thrusts while she gets a full-power buzzfest. And yeah, it's machine washable, just in case you were wondering.
SHOP NOWWand Massager Positioning Cushion, $83.31 on amazon.com
Advertisement – Continue Reading Below